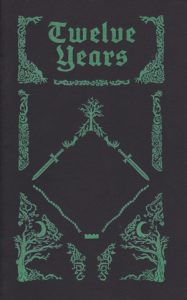 Twelve Years is a game by Max Moon Games. It is a solo+ rpg with no game master and can be played cooperatively, competitively or parallel. The premise of the game is that the Lich King at the Sunken Castle awakens and awaits his coronation. If he is not crowned, he and his minions will leave the castle to destroy the world. Players create a party of 4 adventurers who's goal is to find the crown and crown the Lich King so he returns to his slumber. The journey might not be easy, as along the way they will have various encounters, some good and some not. They will also delve into dangerous dungeons in search of the crown and loot.
There is both hexploring and delving and everything is randomly generated with dice rolls. Time is tracked in years but only if your entire party dies or you are lost in the fae. When your entire party dies, a year passes and you create a whole new party that will set out to put the Lich King back to sleep. If 12 years pass then the Lich King leaves his castle and destroys the world.
There is combat in the game. The combat is more of a chaotic brawl then turn by turn encounter. Only a single dice is rolled to determine the party's attack, defense, enemy's attack and defense. The party attacks as one group but they will receive damage individually and the one receiving damage is chosen at random.
To play the game you only need the Twelve Years zine, 4-sided, 6-sided, 8-sided, 10-sided and 12-sided dice, a pen/pencil, paper, party sheet, hexploring sheet, delving sheet, and quick play sheet. The play, hexploring, delving and quick play sheets can be downloaded from the Max Moon Games website. I didn't use the delving sheet as I used my own grid paper. I went all out with my hexploring sheet but that's obviously not necessary.
I really enjoyed my first playthrough. I liked the story, the encounters and creating the maps. It was a fun few hours. My party seemed to do well on the way to the castle but things did get dire once there. One character died but thankfully I had a mushroom of rejuvenation which was able to resurrect her.
Below you can view the maps I created and read my party's adventure as told by the storytelling bard, Menos.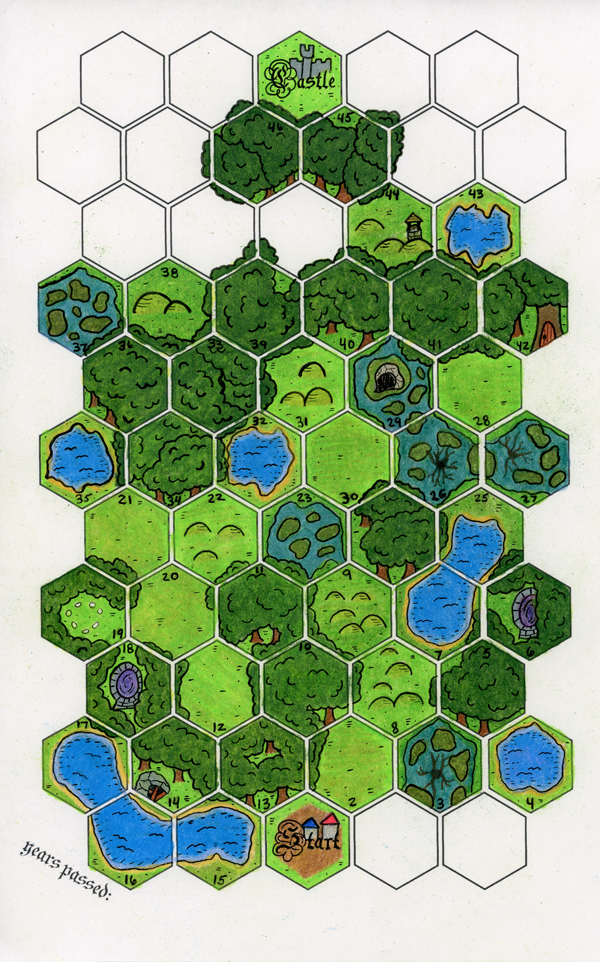 This is the map I created while hexploring. I used Prismacolor colored pencils and Faber Castel Pitt Pens.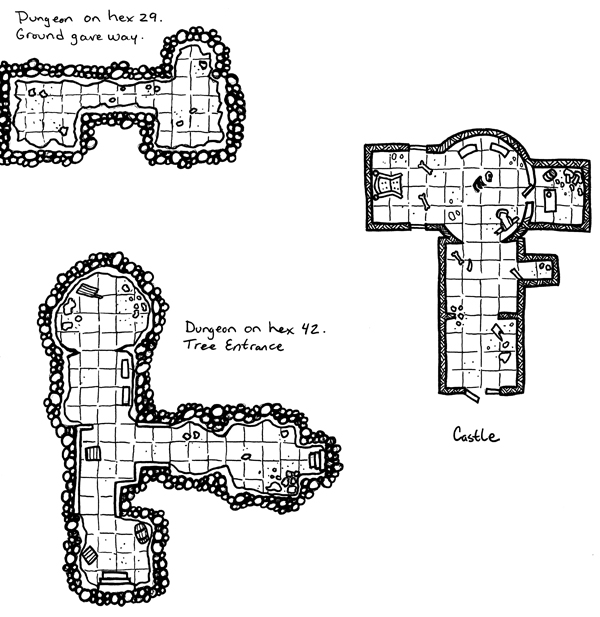 Here are the maps I created for the two dungeons the party went in and the castle. I just used Faber Castel Pitt Pens.
Have you heard the tale of the last adventurers to head to the castle? No. Well let me tell you.

It is said they all met at The Fire Dragon Inn. None of them knew each other and all were from various parts of the world and like so many others they were determined to stop the Lich King. Would they succeed? Nobody knew. These adventurers had no tales that followed them. They were unknowns. But unlike so many others they didn't seem interested in fame or fortune. They genuinely just wanted to stop the Lich King because it was the right thing to do.

We only knew their names because the giant Wanda was a talker. There was Claudia the hermit, Samantha the rogue and Victoriana the fae folk. They set out for the Sunken Castle without much fanfare and without many people even noticing. 

The stories say they fought many creatures like a treachery of ravens, poisonous toads, giant beetles, zombies and more. They emptied a couple of dungeons and they helped a few lost nobles and traveling merchants. They also gained members; another rogue by the name of Sarah and a fae folk named Lela.

The famous dragonhunter, Gerhardus Zauber even said he met them and joined them for a bit before heading back to dragon hunting. They eventually found a crown while helping a walking, talking tree and some tree folk. With a crown in hand they headed for the castle.

When they reached the castle it is said they thought they were ready but maybe they should have gotten a little more experience before heading in as it is believed one or two died but were brought back to life by magic.

But in the end it all worked out and they were able to crown the Lich King and put him back to sleep. They returned to the inn to rest up and by morning they had all gone their separate ways.

- Menos the Storytelling Bard